Product Information
THE QUALITY AND DURABILITY OF THE LUCAS GAS SPRING MAKES IT YOUR BEST POSSIBLE CHOICE
Lucas gas spring are available for manufacture or replacement on most industrial, automotive, marine,agricultural and material handling applications.
Lucas gas spring are products of the highest quality on the market. Their manufacture has been subject to the strictest IAFT 16949 : 2016. The highest standards of design and sustainability are assured for a total satisfaction of your customers.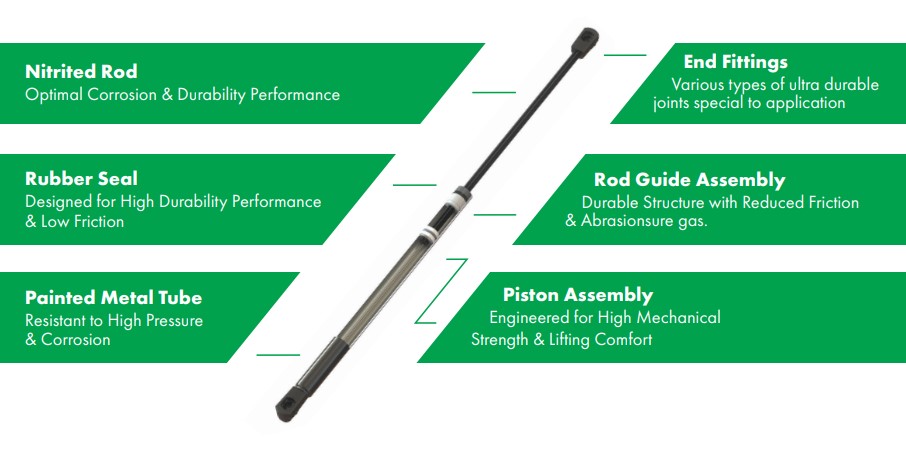 Recommendation and advices for using gas springs:
Always replace the gas spring in pairs for best performance and to prevent twisting due to uneven loading.
The cylinders incorporate a pressurized gas charge between 50 and 2500 Newton and cannot be compressed by hand.
Quick installation without any special tools.
A careful inspection of all hinges and connection points should be carried out for any signs of wear or fracture.
These items should be replaced or repaired before installing the new gas springs.
Advice:
Before to ordering gas springs, control the following:
Overall length from the center of the attachment to the center of the other attachment (in extension)
Stroke
End fittings
Newton force
How to measure a Gas Spring:
The overall length is measured with the steel rod fully extended, between the center of the two fixing studs. The stroke is measured between the top end of the tube and bellow the end fitting on the rod.
Installation instructions:
Before removing old gas springs, review all supplied items to determine which components will be reused. Keep the hood, trunk or tailgate in the open position while replacing the struts.
DO NOT REMOVE BOTH GAS SPRING AT THE SAME TIME.REPLACE ONE, THEN THE OTHER.
Lucas gas springs: always premium performance.